Ryder Cup 2018 Location, Date, TV channel and Tickets info
France will host 42nd Ryder tournament Matches from 28th of September to 30th of that month. This event will be held in Saint Quentin-en Yvelines, at Albatros Course of Le Golf National. Albatros Course of Le Golf National is located in the southwest of France's capital, Paris. This will mark the second time where Ryder tournament is held in Continental Europe, after Spain hosted this event in 1997. United States of America is currently the defending champion, but has been losing over the last five matches held in Europe, having last won in Europe in 1993.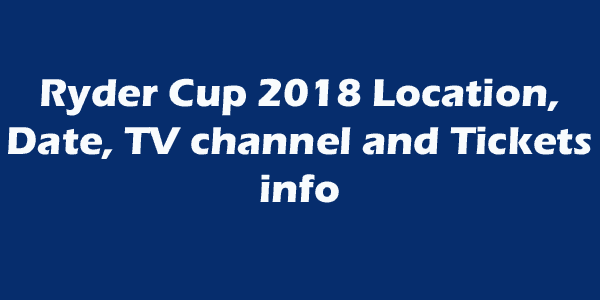 The Ryder tournament 2018 location
Le Golf National, has robust experience in hosting tournaments given that it has previously hosted European Tour's best as host of Alstom Open de France from 1991. Previous winners of this cup event include Graeme McDowell, Colin Montgomerie, and Miguel Angel Jiminez. Ryder Cup is consistently taken to be a hard test in professional golf. Le Golf National promises to be an amazing setting for both American and European squads with many rewards on offer.
Ryder Tournament 2018 Tickets Information
If you have no ticket yet, you will have to create a ticket account as soon as possible. This following schedule is what you should expect during the tournament.
Tuesday and Wednesday: These days will offer an opportunity for fans to see teams practice. Additionally, most guests and fans will be in a position to watch Team USA and Team Europe compete in a celebrity face off. Moreover, guests and fans as well will be in a position to see potential future stars in as far as the golf is concerned once a scheduled Junior match kicks off.
Thursday: Thursday will present a last day for players to practice, before the tournament is officially launched. Pairings will also be broadcasted on this date. Swiftly thereafter, a star studded Ryder Concert will entertain guests and fans as well.
Friday, Saturday and Sunday: These days represent the match days. During these days, best players from United States and Europe will go head to head. This tournament promises to be among the planet's biggest sporting contest.
Ticket Prices and Options
Season (Tuesday to Sunday included)
Adults (17+) – €655.00
Junior (6 – 16) – €515.00
Tuesday
Junior (6 – 16) – €10.00
Adults (17+) – €45.00
Wednesday
Junior (6 – 16) – €10.00
Adults (17+) – €45.00
Thursday
Junior (6 – 16) – €10.00
Adults (17+) – €80.00
Friday: All Friday tickets will go for €150.00
Saturday: All tickets will go for €160.00
Sunday: All Sunday tickets will go for €175.00
Hospitality
The 2018 tournament Cup official program has established a variety of ways through which guests can experience team events, while enjoying unparalleled first-class hospitality. Below are some packages on offer during this golf tournament.
Albatros and Aigle Galleries
Given that the galleries are suited overlooking some holes, and with first class golf taking place in the surrounding environment, This galleries prove to be a premium dining restaurants. Ryder Cup tournament guests are assured to enjoy exquisite French gastronomy in a very sophisticated and exclusive surrounding. This restaurant, seated at private tables, will ensure that guests enjoy Ryder Cup from a vantage point.
Seine Suites
The suites are designed to give a high level of exclusivity for corporate. This suites can accommodate groups of over thirty people within a first class hospitality facility that overlooks some of the holes. This suites represent a perfect location to experience Ryder Cup atmosphere once this competition enters a critical stage. Seine suites pride in gastronomic delights served twenty four hours in a day, outstanding consumer service, and a complimentary bar. In this light, Seine Suites offer a perfect place to entertain high profile clients whilst watching this tournament.
Riviera Restaurant
The restaurant gives all its occupants a good sight over some holes. This facility is designed so as to provide a relaxed setting to enjoy flexible dining in a bid to maximize hospitality experience.
Samuel Ryder Club
The Samuel Club is based next to 7th hole. This club prides in live TV coverage, French delights, and an open bar. This club is a good base for fans looking for a spot to enjoy all actions going on during the tournament.
Ryder Cup 2018 TV channels
The Cup will be broadcasted over a number of TV channels such as: Sky sports, Ziggo Sport Select, BBC, ESPN, NBC, ABC, Viasat Golf, Golf+, Nova sports, sport TV, golf club, golf channel and Ziggo sport among others.